PENGARUH DAN STATUS EKONOMI KELUARGA TERHADAP PENDIDIKAN ANAK DI MASA PANDEMI COVID-19
Nur Afni

Universitas Alkhairaat Palu
Abstract
Education is not only useful for individuals in order to improve knowledge, but also as a business community for society in general and the family economy in particular. Education is a path to progress to achieve social welfare and create a stable country's economy, while failure to build education will give birth to various kinds of problems. We can reflect on developed countries which prioritize education to support quality human resources. Considering that in entering the world of work, the next generation of the nation is faced with increasingly large challenges so that it must be balanced with skills and qualified education. The more qualified the next generation of a country, the higher the rate of economic growth and can create a prosperous society. The economic influence on children's education is very large, education is expected to support the process of economic life and can even influence the direction of the economic development process because the actors of economic life are humans themselves. Furthermore, economic development in turn will support the realization of the educational process needed in economic development (Kabar Pendidikan.id/2021). Loss of parental income or loss of household income that occurs suddenly causes instability in the family's economic situation and can lead to poverty. The atmosphere of the Covid-19 pandemic has brought back awareness of the importance of family education which has been rarely done or even neglected by some families. During the Covid-19 pandemic, the family economy is disrupted, while children's education must continue, children still have to learn from home which requires cellphones, laptops, credit, quota, internet and so on.
References
Ahmad, Abu dan Widodo Supriyono, Psikologi Pendidikan. 1991.
Ahmadi, Abu. Ilmu Sosial Dasar. Jakarta: PT. Rineka Cipta, 2003
Anwar, A.I. Biaya Pendidikan dan Metode Penetapan Biaya Pendidikan, Mimbar Pendidikan,No.1 Tahun X, 1991, 28-33.
Arifin Noor, M. Ilmu Sosial Dasar. Bandung: Pustaka Setia, 1999.
Chotimah, Lilis Nur. Ani, Hety Mustika dan Widodo, Joko. Pengaruh Status Sosial Ekonomi Orang Tua Terhadap Prestasi Belajar Siswa (Studi Kasus Siswa Kelas VIII SMP Negeri 1 Jember Tahun Ajaran
/2017). JurnalPendidikan Ekonomi: Jurnal Ilmiah Ilmu Pendidikan, Ilmu Ekonomi, dan Ilmu Sosial ISSN 1907-9990 | E-ISSN 2548-7175 | Volume 11 Nomor 1 (2017)
Soekanto, Soerjono. Sosiologi Suatu Pengantar. Jakarta: PT. Raja Grafindo Persada, 2006.
Sugihartono, Dkk. Psikologi Pendidikan. Yogyakarta: UNY Press, .2015.
Svalastoga, Kaare. Diferensiasi Sosial. Jakarta: PT. Bina Aksara, 1989
Tim Penyusun Kamus Pusat Pembinaan dan Pengembangan Bahasa, Kamus Besar Bahasa Indonesia. Jakarta: Balai Pustaka, 1988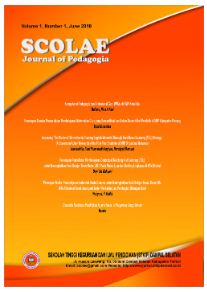 How to Cite
Afni, N. (2020). PENGARUH DAN STATUS EKONOMI KELUARGA TERHADAP PENDIDIKAN ANAK DI MASA PANDEMI COVID-19. Scolae: Journal of Pedagogy, 3(2). https://doi.org/10.56488/scolae.v3i2.79
Copyright (c) 2020 Nur Afni
This work is licensed under a Creative Commons Attribution 4.0 International License.