PROBLEMATIKA PEMBELAJARAN SEJARAH KEBUDAYAAN ISLAM DI MADRASAH TSANAWIYAH AL-KHAIRAAT PAKULI KABUPATEN SIGI
Abdul Rasyid

Madrasah Tsanawiyah Al-Khairaat Pakuli Kabupaten Sigi
Abstract
The aim of learning SKI in Madrasah Tsanawiyah is the provision of knowledge about Islamic history and culture to students and taking lessons, values and meanings contained in history. In fact, after being traced, learning Islamic Cultural History in the Al-Khairaat Pakuli Madrasahs of Sigi District faces several problems. The research method used is a qualitative approach, then to obtain data in accordance with the problems, data collection techniques are carried out by observation, interviews, and documentation. The results of the study show that the forms of problematic learning about the history of Islamic culture in Madrasah Tsanawiyah Al-Khairaat Pakuli are; 1) Student Participation Problems, 2) Problems in SKI Teaching Staff, 3) Facilities and Infrastructure Problems, 4) Time or Lesson Hours Problems are very short, 5) Negative Views on SKI Subjects, 6) Domination Problems in Cognitive Aspects of Learning SKI, 7) Problems in Learning Methods that are monotonous.
References
Depdiknas, 2002. Pelatihan Terintegrasi Berbasis Kompetensi Guru Pelajaran Bahasa Indonesia, "Metode Pembelajaran". Jakarta, Media Press.
Departemen Agama RI, 2000. Al-Qur'an danTerjemahnya, Jakarta: Proyek Pengadan Kitab Suci Al-Qur'an.
Lexy J. Moleong, 2001. Metodologi Penelitian Kualitatif, Cet. II. Bandung: PT. Remaja Rosdakarya.
Muh. Uzer Usman , 2008. Belajar dan Pembelajaran, Cet. I. Bandung: Mizan, 2008.
M. Hanafi, 2012. Pembelajaran Sejarah Kebudayaan Islam, Jakarta: Direktorat Jenderal Pendidikan Islam Kementerian Agama RI.
Nata, Abuddin. 2011. Perspektif Islam tentang Strategi Pembelajaran. Jakarta: Kencana Prenada Media Group
Soeganda, Poebakwatja dan Harahap, 1982. Ensiklopedia Pendidikan, Jakarta: Gunung Agung
Sugiyanto, 2010. Model-Model Pembelajaran Inovatif. Surakarta, Yuma Pustaka.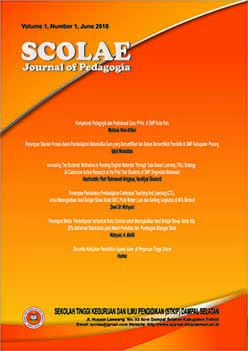 How to Cite
Rasyid, A. (2018). PROBLEMATIKA PEMBELAJARAN SEJARAH KEBUDAYAAN ISLAM DI MADRASAH TSANAWIYAH AL-KHAIRAAT PAKULI KABUPATEN SIGI. Scolae: Journal of Pedagogy, 1(1), 13-25. https://doi.org/10.56488/scolae.v1i1.8